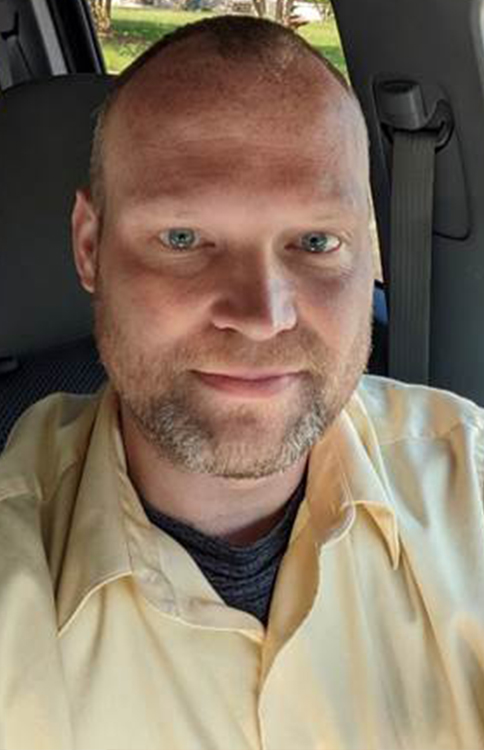 Congratulations to Matt George! He is our June Spotlight winner! Matt recently transferred to our Macon, Georgia area from our Jackson, Ohio area. So, while he is new to our Macon area buildings, he is not new to LifeSource! Over the last month, Matt has been a tremendous help and an asset to our telehealth team in Macon. We unexpectedly had two TLs in the area that needed to limit their schedule and Matt was able to step in and save the day! He picked up extra sessions so that our providers could still see their patients! THANK YOU Matt for all of your help! He stepped in to help but also came in with a refreshing, can-do attitude that not only stood out and impressed our LifeSource staff, but also left quite the lasting impression on our clinicians! Dr. Rasheed shared, "He is a wonderful asset to LifeSource! He resolved technical challenges quickly, worked well with facility staff that he met for the first time and showed compassion to the residents. He has a very easy going demeanor and worked seamlessly between two facilities." Susan Greene shared, "Matt is a great TL. He was very professional and the patients really enjoyed him!" Christina Haire, LCSW shared, "I want to commend Matt for sticking it out in the heat at the Monday Macon clinic this month. The central air had been broken for several weeks in parts of the building in this summer heat!" Great job Matt! Congratulations and thank you for all of your hard work!
TL Highlights - June 2022
Shout out to Halie Parker! Halie Parker works in our Rome, GA area. Halie is always willing to help out and brings such a great positive attitude that really stands out. Susan Greene, GNP shared, "Halie Parker is exceptional! She goes over and above to the make the residents smile!"
Kudos to Caroline Kimethe! Caroline works in our Lawrenceville, GA area. Dr. Rubin shared, "It was a pleasure having Caroline as my TL. She was very prepared and had good rapport with the patients. I would be happy to have her help me again, anytime!" Susan Greene, GNP shared, "Caroline was wonderful to work with today, just awesome!"
Special appreciation for Cyndee Cave! Cyndee works in our Georgetown, SC area. Jennifer Eklund, LCSW shared, "She has been amazing... going above and beyond. She is boosting and elevating everyone's moods!"
BIG thank you and appreciation to the TLs who helped pick-up last minute, extra sessions: Tamika Simmons, Alexandria Lankford, Tracie Shriner, Tania Kane, Rebecca Cassell, Kerria Pernell and Jessica Jager! Without your willingness to pick up extra sessions, we wouldn't have been able to see our patients!!
New TLs - June 2022
I also want to extend a warm LifeSource WELCOME to our new TLs that have started with us since our last Spotlight email! Welcome all! We are excited for you to be a part of our amazing Telehealth Team!
Mary Alvarado - GA
Victoria Favors - GA
Carmen Smith - GA
Vaneesha Kitchens - GA
We appreciate everything you do each day!