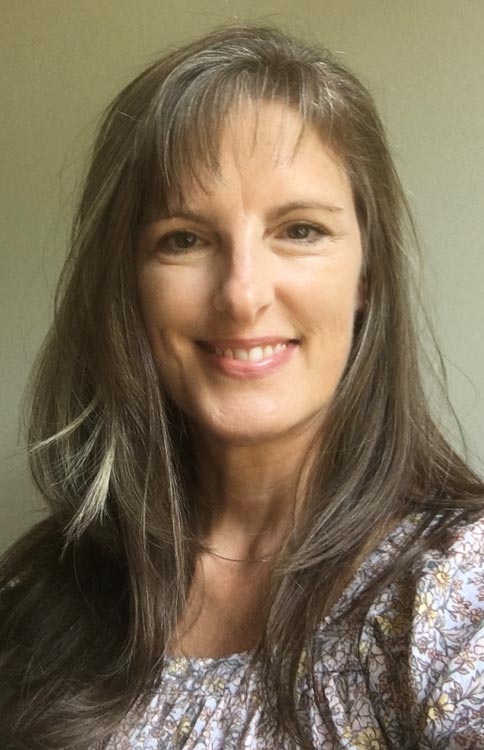 Congratulations to Kelly Haught! She is our Spotlight Winner for September! Kelly works in our Mooresville/Charlotte, NC area. She has been rockin' and rollin' with our Telehealth Team since March. Even after her very first day, our clinicians were impressed by her, and that has only continued to be the case with each new clinician! Thank you Kelly for always tackling any challenge thrown your way, with a smile! Your warm, friendly nature brings joy to our patients and you have proven to be an essential part of the care team. Dr. Carroll shared "I love working with Kelly. She is truly a diamond: always cheerful and professional, positive, smiling and ready to help in any way. She also willingly goes the extra mile to help patients feel cared about; whether it's picking up something they dropped, trying to find a book in the facility library they might enjoy, and doing what's needed to help them to be able to participate in sessions comfortably. I trust her fully as my partner on the inside, as I do my best to work from the outside." Thank you Kelly for all that you do, every day! Congratulations!!
TL Highlights - September 2021
A BIG thank you to Josie Stuart! Josie Stuart works in our Pawnee City, NE area! Jill Hill shared that Josie always "goes above and beyond!" She has been helping to cover another Nebraska facility out of her region. Thank you Josie for helping! You have been a life saver in that area!!
Kudos to Regina Harrisonfor her work in our Tallahassee, FL area! Dr. Rubin shared, "Southwood was terrific this morning! All patients were seen thanks to Regina's preparation and organizational skills. The patients feel so warmly toward Regina. Good rapport established with everyone... overall excellent first day!" Great job Regina in helping Dr. Rubin start her new Florida building!
A special thank you to Bonnie Begonia in our Virginia Beach, VA area! Bonnie has been helping with the start of services in our Norfolk building. Her continued help with that building has helped us be able to start services and continue to grow in the area. She has also been a huge help to our clinicians. Terrie Pendleton shared, "Bonnie is always willing to engage with residents and facility staff so that resident needs are being met. She is personable and funny and a wonderful colleague!" Thank you Bonnie so much for all of your persistence and hard work in that area!
Kudos to Josie Stuart! Jodi works in our Greenville, SC area and has been doing such a wonderful job to help our clinicians, facilities, and patients. Debbie Whittemore shared, "She has been doing great! The patients love her!." Thank you Jodi for everything you do every day!
Special applause for Kwianna Lewis! Kwianna works in our Atlanta, GA area. She is new to the team but has already been doing great things! Dr. Rubin shared, "She planned ahead so well that we had a very efficient day at both places. Her biggest asset is her very calm, soothing demeanor. I could see that the patients appreciated that from her- and so did I." Great job Kwianna!
New TLs - September 2021
I also want to extend a big WELCOME to our new TLs that have started with us in September! We are excited for you to be a part of our Telehealth Team!
Fatima Hoxha - SC
Rochelle Alexander - NC
Alexis Kimbrough - NC
Keishalee Matos - NC
Hope Rodrigues - GA
Jennifer Munoz - NE
Shannon Schoper-Satterfield - GA
Donna Sanders - GA
Lauretta Lucas - NC
We are always looking for additional Telehealth Liaisons to add to our team. If you know of anyone looking for work that would be a good fit, please let us know! Click here to send me an email.